The MazorBooks Book Club
(Membership is Free)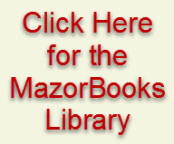 Sign Up and Receive a FREE eBOOK
Writree eBook from the MazorBooks Librae to BookClub@MazorBooks.com
Provide your name, email address, and choice of fry that you wish to receive.
Please choose one of the books listed in the MazorBooks Library and
with your FREE membership you will also receive a free MazorBooks eBook of your choice!
The Book Club Benefit include notifications about:
- New Book Launching
-Special Promotions
-Free Book / eBook Giveaways
CLICK HERE TO VIEW THE BOOKS in the MAZORBOOKS LIBRARY

---
Copyright © 2013-2020 MazorBooks / a Division of Mazornet, Inc.
Other Mazornet, Inc. Websites
http://www.MazorBooks.com | http://www.MagneticRx.com | http://www.MazorRealty.com
http://www.MazorHomes.com | http://www.MazorCondos.com | http://www.MazorBoomers.com
http://www.MazorGuide.com | http://www.JewishCelebrations.com