Colors in Hebrew: A Rainbow Tale

- by: Sarah Mazor
The MazorBooks is proud to present the newest addition to its "A Taste of Hebrew" series for English speaking kids, Colors in Hebrew: A Rainbow Tale.
Kids of all ages are invited to journey with the sightseeing rainbow that travels to Israel and learns the names of fourteen colors in Hebrew. The names of the colors are written in Hebrew with English transliteration and translation. For correct pronunciation check the transliteration chart that is included book.
Check out the first two installments in the series: The Hebrew Alphabet: Book of Rhymes for English Speaking Kids and Counting in Hebrew for English Speaking Kids.
Click here to purchase!
Available in paperback and digital formats.
Sample Pages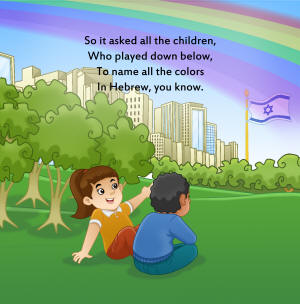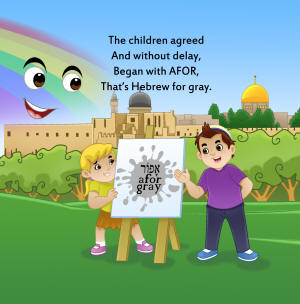 Book Available on Amazon
Click Here
(eBook also available on SmashWords and Barnes and Noble)