ABOUT THE ROSH HASHANAH and the HIGH HOLIDAYS

Rosh Hashanah, literally "head of the year", is the Jewish New Year and one of the Jewish people's holiest of days. Rosh Hashanah, which occurs on the first and second days of the Hebrew month of Tishrei (September – October), also celebrates the world's creation.

The Jewish New Year celebration has little in common with the secular celebration of New Years Day in January. The traditions and rituals of Rosh Hashanah are not associated with partying, fireworks, or football games, rather they are devised to encourage contemplation, reflection, and self-evaluation. They reinforce the notion of our responsibility for our life, our conduct and our actions.

The most popular symbols of Rosh Hashanah are the Shofar, the ram's horn that is blown as part of prayer services, and the apple dipped in honey, which represents the prayer for a sweet new year.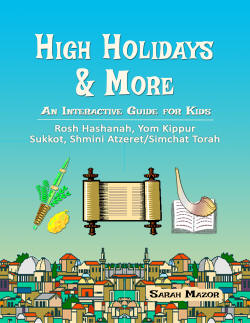 PERFECT GIFT
An interactive guide to the four fall-holidays that occur during Tishrei, the first month of the Jewish Calendar, when Jews celebrate Rosh Hashanah, Yom Kippur, Sukkot, and Shmini Atzeret/Simchat Torah, each with its unique rituals, customs, and meaning.
ROSH HASHANAH is COMING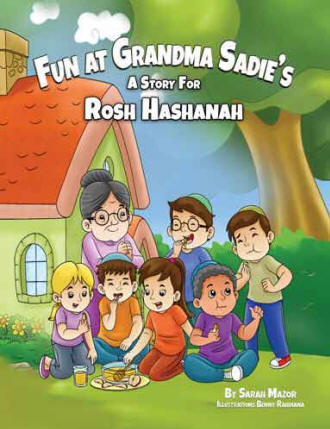 Before Rosh Hashanah, the holiday that celebrates the Jewish New Year, the neighborhood kids flock to Grandma Sadie's house where it's always fun.
Grandma Sadie and the kids play a Rosh Hashanah game and learn about the holiday's main traditions, such as the blowing of the Shofar and Rosh Hashanah's symbolic foods.
The second edition of this book includes the Grandma Sadie Guide to Rosh Hashanah Traditions, which explains the rituals associated with the holiday, such as the blowing of the Shofar, and an image-based list of the main symbolic foods eaten at the festive meals (head of a fish, pomegranate, and more).