ABOUT PASSOVER
Jewish people celebrate each spring the holiday of "Pesach" or "Passover", named so to commemorate the miracles and redemption of the Israelites from slavery in Egypt.

The celebration is marked with a Seder, a festive meal with family and friends during which the story of the redemption from slavery in Egypt is retold.

Many years ago
In the land by the Nile,
The Children of Israel
Lived well for a while.

Then the Pharaoh of Egypt
Changed his ruling ways.
All the Jews became slaves,
Forced to work nights and days.

Moses, who saw the great suffering of his people, begged God to help the Israelites and God listened to his prayers.

Read about the miraculous redemption in
The Passover Story: Celebrating Freedom

PASSOVER'S MAIN OBSERVANCES and COSTUMES
(Information included in the digital edition of the book)
- The Passover Seder – Festive meal commemorating the miracles of redemption, through symbolic food and story telling.
- The Haggadah - The Passover Haggadah, read at the Seder, tells the story of the liberation of the Jewish people from Egypt.
- Eating Maztah - The Matzah (Matzo) is the unleavened flatbread eaten instead of regular bread, is the central symbol of the festival of Passover.
PASSOVER is COMING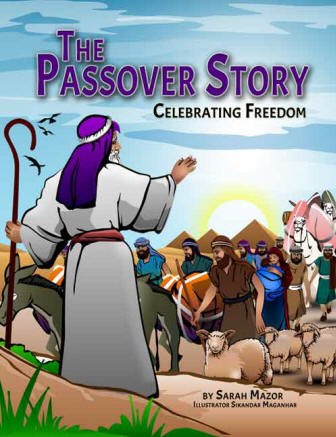 On Passover, Jews around the world celebrate the redemption of the Israelites from Egyptian slavery.
Moses, the leader of the Israelites, was empowered by God to demand of Pharaoh, the Egyptian ruler, to let the Jewish people go. Pharaoh refused at first, but when things began to happen Pharaoh had a change of heart. Or did he?