ABOUT PURIM
Purim is an important Jewish holiday and one the favorite holidays for Jewish kids.
(Scroll down to Download Purim Coloring Pages)

Purim is celebrated every year on the 14th day of the Hebrew month of Adar world wide and in Jerusalem on the 15th day of Adar. Purim commemorates a time of great challenge and fear for the Jewish population of Persia over 2300 years ago and the miraculous events that transformed the dark times into bright and hopeful days.

PURIM MAIN CELEBRATIONS
- Kri-at Megillah – gathering in synagogues for the reading of Megillat Esther
- Matanot Laevyonim - giving charity to the poor
- Mishloach Manot - exchanging gifts of goodies with relatives, friends, and neighbors

PURIM TRADITIONAL OBSERVANCES and COSTUMES
1. A Festive Meal
2. Masquerading,
Carnivals and the Purim Shpiel (entertaining skits based on the historical account of the Persian king, Mordechai, Haman, and Queen Esther)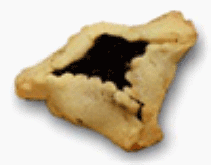 3. Eradicating the name of Haman. This is accomplished by:
- Stumping feet and making noise with graggers upon the mention of Haman's name.
- Haman Tashen (triangular pastries filled with poppy seed – "mon" in Yiddish) are eaten to denote the obliteration of Haman (the "mon" in the pasty represents Haman).
- Some people write the name "Haman" on the bottom of their shoe, and obliterate the name with every step they take.
MazorBooks Purim Gift - Downloadable Coloring Pages
Download coloring pages with King Acahsverosh, Queen Vashti, Queen Esther, Mordechai, and more.
These pages (form the Purim in Picture and Words interactive book for children) are copyrighted and are for personal use only.
To purchase the full book, which includes the story of Purim, descriptions of costumes, and traditions, Click Here!
PURIM BOOKS FOR KIDS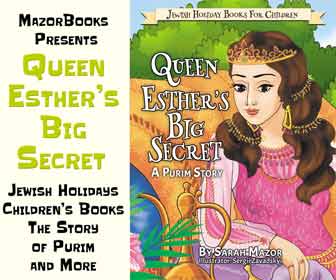 Queen Esther, chosen by the Persian King to be his wife, was beautiful, but shy and modest. She is also courageous and heroic, as she stands up to Evil Haman, and saves her people.

(Queen Esther's Big Secret is based on the story told in the Scroll of Esther)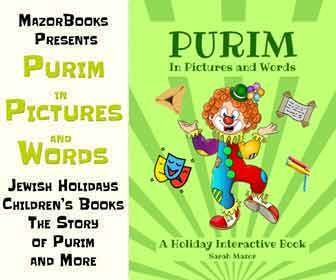 Purim in Pictures and Words recounts in detail the extraordinary story of the miraculous reversal of fortune of Persian Jewry in the days of Xerxes I, the emperor who is more widely known as King Achashverosh.

This informative coloring book, which is based on the text of Megillat Esther (the Scroll of Esther), also includes an overview of the main customs and traditions associated with the celebration of the holiday.

Recommended for children between the ages of 6-11.Enjoy!