Counting In Hebrew For English Speaking Kids
- by: Sarah Mazor and Yael Rosenberg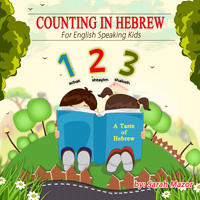 The Counting in Hebrew Picture Book for English Speaking Kids is a beautifully illustrated book that teaches kids to count in Hebrew from one to ten.
Counting in Hebrew includes the numbers written in Hebrew and in English as well as English transliteration of the numbers and all Hebrew words appearing in this volume. While enjoying this book, kids will have the opportunity to enhance their Hebrew vocabulary with words such as abba and imma (father and mother) and many others. The book also includes lists of Hebrew cardinal numbers from one to ten (1,2,3...) and Hebrew ordinal numbers form one to ten (1st, 2nd, 3rd...), as well as all the Hebrew words included in the pages in both their singular and plural versions.
Counting in Hebrew for English Speaking Kids is the second in the series of "A Taste of Hebrew for Kids" in MazorBooks' Smart Kids Bright Future Children's Books collection. Look out for additional MazorBooks in this series.
- To purchase click here!
Available in paperback and digital formats.
Book Available on Amazon
Click Here
(Also available on Smashwords and Barnes and Noble)
------------------------
Reviewed by THE JEWISH BOOK COUNCIL
- by Michal Hoschander Malen
Part of MazorBooks's Taste of Hebrew series, this book introduces English-speaking children to counting in Hebrew from one to ten. A clever poem introduces the numbers followed by a guide to transliterations and a page for each number accompanied by a bright illustration with Hebrew and English text. At the end of the book there is a series of tables neatly laying out the Hebrew term, the English term, the transliteration, and the Hebrew gender forms for both the cardinal and ordinal numbers as well as both the singular and the plural forms of each number. A simple, fine introduction to or review of a basic Hebrew function, this is learning with a light touch.
Recommended for ages 3-6.
http://www.jewishbookcouncil.org/book/counting-in-hebrew-for-english-speaking-kids